Western Texas College Snyder, Texas
The Western Texas College Cooperative mission is to create a world class cathodic protection test facility for students enrolled in the Petroleum Technology Applied Science Program. WTC has a dedicated 35 acre test facility with an existing closed pipeline system, and is receiving generous donations from industry leaders.
"Snyder is well positioned to serve Midland and West Texas, we are excited to invest in locally based education and employment opportunity." Joe Gallo Jr, CEO of Cathodic Protection Solutions LLC. Dana Fahntrapp, Professor of Petroleum Technology, is featured in the middle picture with Joe Gallo and John Glass, NACE Permian Basin Section President, the National Association of Corrosion Engineers.
Equipment Donations on August 29, 2019.
George Brown retired Corrosion Instructor and Corrosion Business Operator: Current interrupter, Resistance meter, two caldweld kits, Reference cells for testing potential voltage, Rectifier made by George Brown, study guides for Corrosion books for Oil and Gas pipelines.
Gary Parsley of Targa Resources: Rectifier, Rectifier Pole, Rectifier A/C disconnect.
Brance Krackey of Integrated Corrosion Companies: John Parkins Denso coating.
Joe Gallo of Cathodic Protection Solutions: two Clamp on multimeters, Insulation checker, Rectifier diode stack for testing, Rectifier upper rack transfer and face for testing, 3M Scotchkote Liquid Epoxy Coating 327, 1.33 L Kit – Part A &B, 3M™ Scotchkote™ 226P Green, Hot Melt Patch Compound.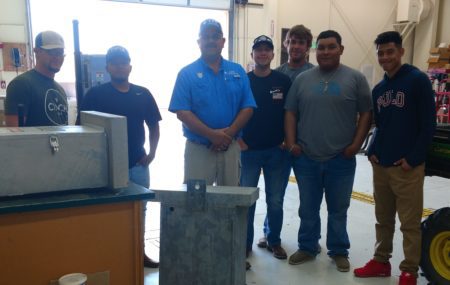 NACE Scholarship Application
For students and instructors, NACE Scholarships will be awarded annually at the NACE Permian Section Education Fundraiser in February. For a possible free NACE Scholarship, please download and complete the NACE Scholarship Application and register at the NACE Permian Section meeting, NACE membership is not required.
WTC Status from Dana Fahntrapp; August 2, 2019
"As a result of our interaction with NACE, CPS and other companies, we continue to improve our Cathodic Protection curriculum and planning our 1st Field Lab in the Fall Semester and utilizing equipment donated by this group of companies. We were wondering if Joe or anyone else has an extra NACE membership they could donate to the WTC Petroleum Technology program".
Seeking Equipment Donations – NACE Training Modules.
WTC is seeking donations of NACE Training Modules from our group of NACE member associations for the charitable purpose of donating to WTC students. Please contact Dana (dfahntrapp@wtc.edu) if these modules can be provided at a lower cost or donated.
Guest Professor; October 23 of 2018.
"CP Rectifier Basics" lecture by Eddy Bizzell of Pioneer Natural Resources covers the basic rectifier operations and student discussion forum. Eddy has over 30-years experience applying petroleum technology in the oil fields of West Texas and more.
Equipment Delivery; May 12 of 2018.
Below Eddie Bizzell and Mike Pruitt of Pioneer Natural Resources are pictured with WTC Petroleum instructor Dana Fahntrapp receiving the delivery of a cathodic rectifier, junction box and disconnect. THANK YOU TO PIONEER NATURAL RESOURCES!
Equipment Donors to Western Texas College.
Eddy Bizzell, Mike Pruitt of Pioneer Natural Resources.
Dara Richardson of Darrell Crass Drilling.
Tony Thatcher of CRMWD.
Stuart Tiner of Energy Transfer.
Gary Parsley of Targa Resource.
Below is a picture of the WTC Cathodic Test Facility.